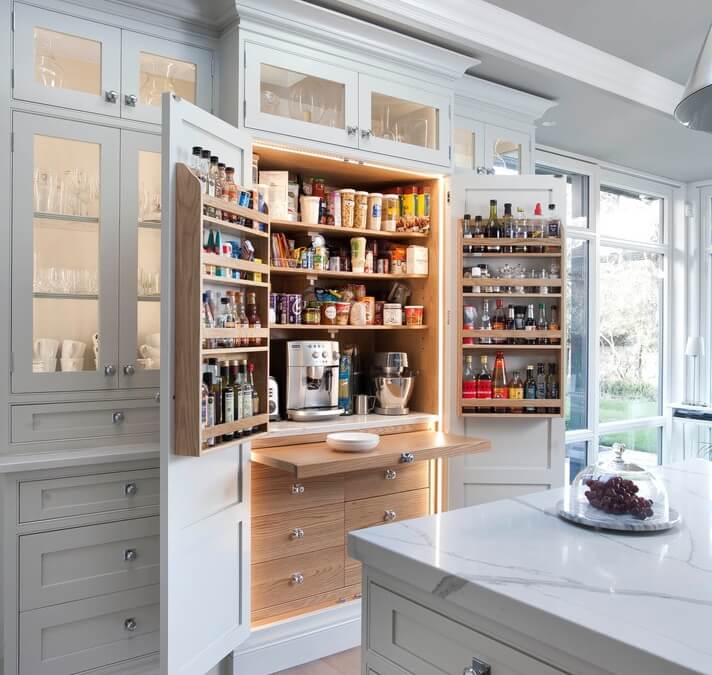 Seven Ways to a Better Pantry
…and improved kitchen function
Ah, the pantry. Is there a closet more important in any household? Sometimes it's the center of attention. The kids and your husband stand it front of it with the door wide open and gaze. What are they looking for? Of course, it's usually a search for just the right snack, but the process is comical. And you can help make it less of a folly by implementing a bit of easy organization. Do it for yourself – there's nothing worse than a mess of an area that you can't make heads or tails of. There are half-filled bags of chips, random sizes and colors of grocery bags, condiments of all sorts spread out everywhere, it's time to reel it all in and make some cohesive sense from the madness.
Here are seven lucky tips that will do exactly that. Follow these and you'll have a pantry that is no longer puzzling:
1. Chalkboard Door

By installing a chalkboard to the front or interior of the pantry door you can maintain organization by better tracking what's needed. Instead of allowing every member of the family to waste a few minutes looking for a certain product that you are ultimately out of, the first person to make the discovery can make a note of it. Writing, "out of sugar" on the board will save someone else from a fruitless search while putting out the alert that sugar is needed. On the fun tip, it's also a great way to share physical text messages with your family. From "Happy birthday" to "good luck on your test!" it's all good.
2. Door Storage

The inside of a pantry door contains some prime real estate and an excellent storage option. By installing a slim wire shoe rack or a tiered door organizer you'll allow for quick and easy access to the things you use often. Obviously it's not the spot for bulky or heavy items but just about anything else will fit well. From spices to freezer bags, aluminum foil to individual snacks, cooking tools, etc… it's so easy to install (sometimes all you need to do is hang it) it barely qualifies as a DIY project. It takes but a breezy effort to fill the door storage and designate places for like-sized products.
3. Clear Containers

For uniformity and easy visibility there's nothing better than clear storage containers. When it comes to products such as rice, oatmeal, cereal, popcorn, etc… it's not advantageous to have a bunch of random bags and boxes randomly placed on the pantry shelves. These containers are one of the easiest ways to organize your dry goods. Simply label each jar and you won't have to second guess where something is.
4. Clear Plastic Bins

Continuing the theme of clear containers, this concept is almost the same, except the square bins will visibly accommodate a variety of products. For instance, one bin can contain Jimmies, unopened syrup or jelly, peanut butter… the idea is to group similar items together, or those that you use together. One bin may contain after school snacks, the next one an assorted variety of canned goods, while another might hold baking items. It all contributes to greater pantry management.
5. Pegboards

Professional home organizers know the importance of pegboards. They are a must have among homeowners who like everything in a tidy, easy to reach place. They are a preferred method of hanging cooking tools arranged together, preventing any need of rummaging through the kitchen for a certain utensil. Plus, pegboards help clear room for more counter space. They're affordable; they look good in any kitchen style, and installing them is a breeze. Consider the sides of your pantry as ideal locations for peg boards.
6. Microwave Concealment

There's really nothing cool about a microwave. Sure they're a necessity for most of us but having one isn't something to boast about, so why would you want yours on display? You never gave it a thought, did you? Well, now that you have, you can acknowledge the elephant in the room, the eyesore – the microwave. Simply hide it in a pantry cabinet. Make a hole in the back of the cabinet so that you can run the power cord to an outlet. It's still ready to go, but now it's out of sight.
7. Open Shelving

Especially in smaller narrow spaces, open shelving in a pantry can be a great solution. If there is simply not enough room for a cabinet to swing open fully, open shelves are a good alternative. Keep the walls and shelving alike in neutral colors. In a small space, white is ideal. Continue the motif of matching jars, baskets and bins for best sorting pantry items. This will contribute to helping keep your pantry neat and tidy.