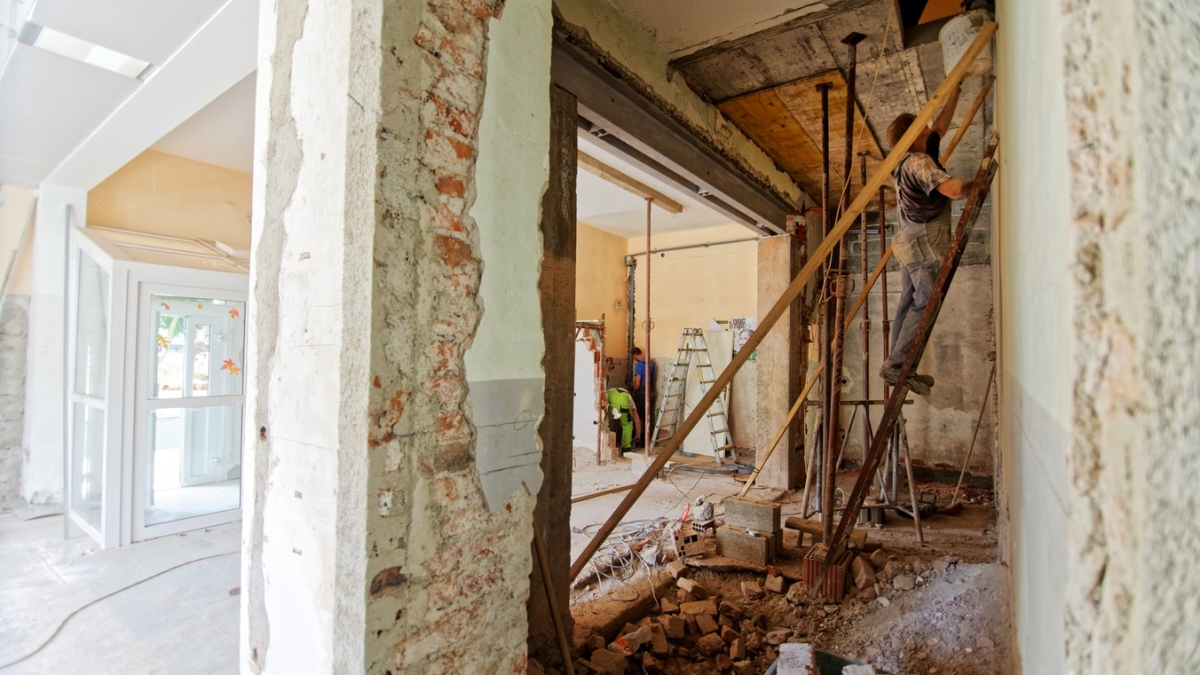 Avoid the Anxiety & Stress of a Remodel
Tips for keeping a home improvement from becoming a home wrecker

We always go into it with the best intentions. We want to make our homes more comfortable for our family, to accommodate them in the best ways possible. We pursue home improvement projects to improve our lives. Why is it then, that so often such endeavors make them a living hell instead?
The stress that stems from renovations and/or remodels manifests itself in a variety of basic ways. You could be arguing with your architect, disputing costs with your contractor, debating colors with your designer or worse – disagreeing with your loved one. A home improvement project is rarely executed and completed in harmonious agreement. No, the homeowner is pretty much guaranteed stress and anxiety, but much of that is due to naiveté. But this can be mostly avoided with a bit of preparation. For one thing, you need to know where to begin…

Initially it is best to employ a contractor for consultation and let them in on everything you'd like to do. They can advise you if any city permits are required and specifically what related tools will be needed. Possibly most importantly, they'll perform an analysis of the property to determine if it's even stable enough to proceed with serious modification. Depending on the scale of your endeavor they'll help you determine whether or not a construction crew in necessary.
After you've laid it all out and you're both on the same page, a clear cost estimate must be calculated. In order to avoid surefire headaches you want to have as thorough an understanding as possible of how your budget will break down. In other words, where will the money go, exactly? It is up to your contractor to explain this to you. Assuming you're not going the DIY route, it'll fall on him to stick to the budget and keep all costs manageable. Don't proceed until you have a genuine understanding of the itemization. Ask about worst case scenarios and unforeseen circumstances. If you're looking at leaving it in the contractors hands for the most part (not recommended), request that you are always well-informed and on the same page. Will there be delays, sudden expenses? Politely demand to be told as soon as something unexpected comes up. Establish a weekly meeting that will allow you to check the state of affairs.

You will also need to have a firm timeline worked out. Your advisor should have it mapped out with a schedule that for the most part is solid. You don't want to be surprised with setbacks that will only serve to frustrate all involved. Ask to have all of your materials ordered early so that everything is ready to go as work commences. Have a list of subcontractors ready in case you are falling behind and the slack needs to be picked up. Obviously you want to schedule the job around a prolonged period of time that you (and your partner, if applicable) will be available. Don't proceed if you need to be out of town or gone overnight a number of times. Not being there while the work is in progress will negatively impact the project as well as the mood surrounding it. You certainly don't want to be the cause of delays.
It's easy to be prone to changing your mind(s) a number of times during a remodel. But resist the urge. In other words, don't do it. You're going to be responsible for a whole lot of additional stress if you do. Obviously you'll be adding to the costs and time of the project. If you want a smooth ride free of frustration, be absolutely sure of what you want before you break any ground. Without a doubt, you will be much happier if you do not make changes after the project has begun.

Communication is key. It may seem pretty obvious, not just in regards to home improvement projects, but in life itself. The greater mutual understandings you have with others, the less drama will be created for you to endure. Before starting any big project, talk to anyone who has done anything similarly. Learn what questions to ask up front. Keep a paper trail, notes of conversations, quotes, receipts, any related voice mails, etc… You never know when you'll be forced to work with a dishonest party and you need to protect yourself. But as long as you have a clear understanding of what to expect and you communicate that clearly, everything should be concise enough that you are able to avoid profound shake ups.
If you are able to follow these basic steps without issue, your project will be completed with a minimum of trouble and stress. More importantly, without anyone being at each other's throats. And that's the point here, to keep the stress of a remodel from affecting your personal lives. Good luck!